Businesses looking to obtain a transparent commercial EPC in Leicester should look no further than the services provided by A & C Energy Surveys Limited.
Not only are we qualified to deal with all types of properties throughout the United Kingdom, but our trained energy assessors are able to supply a superior sense of transparency that is not often possible when dealing with other firms.
Why is a EPC in Leicester required for public buildings and what can you expect when choosing to work with our team?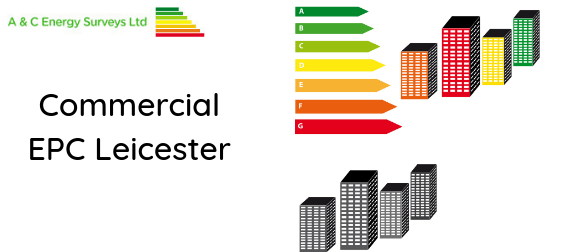 Addressing Energy Efficiency Requirements
A commercial EPC in Leicester is required in the event that a property is rented, built or sold to a third party. This is important to determine the minimum energy efficiency standards MEES. Some of the metrics which will be covered by an EPC include:
The type of insulation found throughout the structure.
The efficiency of boilers and hot water tanks.
The presence of double-glazed windows and similar energy-saving amenities.
Potential areas that might need to be improved in order to obtain a more favourable rating.
Once the survey itself is carried out, the customer will be provided with an efficiency rating. This rating is graded from A (excellent) to G (extremely poor). The examination and grade will also take into account the carbon dioxide emissions associated with a specific commercial property. Immediately after the energy performance certificate has been obtained, it will remain valid for a period of no more than ten years. Please note that landlords are now required to be supplied with an EPC before they are allowed to rent out a commercial location.
Providing the East Midlands with EPC Surveys and More
While we are pleased to be able to offer EPC's in Leicester, we can also provide domestic examinations if required. Our team highly accredited and these surveys will provide property owners with the clarity needed to make important decisions when the time is right. Please contact us if you would like to schedule a consultation or should you have additional questions. A customer service representative will always be happy to help.
We are accredited with the following organisations: