At A & C Energy Surveys Ltd, we specialise in providing domestic and commercial EPC in Nottingham. Have you recently constructed or rented a commercial property in Nottingham? If so, you will require an official energy rating according to modern rules and governmental guidelines.
Our professional energy assessors are able to provide you with commercial energy performance certificates.
Why is this documentation important and what benefits can you expect to enjoy immediately following a consultation?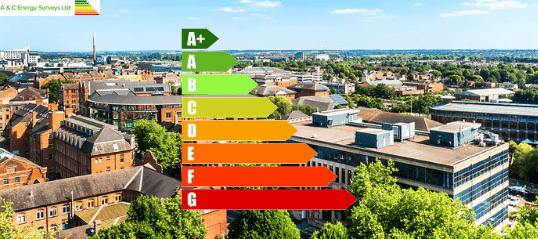 What is an Energy Performance Certificate (EPC)?
A company which provides commercial EPC will assess the energy rating of the structure in question. This evaluation involves examining metrics such as any areas associated with notable heat loss, how much power the structure is consuming and the efficiency of current devices such as boilers or HVAC systems.
Once this examination has been completed, you will be provided with a rating from A to G. An 'A' rating represents superior levels of efficiency while the rating of 'G' signifies that changes must be made.
What are the Benefits of an EPC in Relation to East Midlands and Nottingham Businesses?
It can be argued that the most advantageous aspect of an energy performance certificate is that your commercial property will be able to save a great deal of money over time.
This documentation can also provide you with insight if you hope to reduce the overall carbon footprint of the premises. Whether referring to the East Midlands or the Nottingham area, these benefits cannot be denied.
When Might an EPC Not be Required?
There are several situations which are exempt from these regulations. A handful of examples include:
Standalone structures less than 50 square metres in size.
Religious institutions.
Premises that are slated for demolition in the near future.
Temporary structures (those which will not be used for more than 24 months).
If you require a EPC in Nottingham or the surrounding region, it is nonetheless wise to speak with our qualified team of commercial EPC specialists to determine whether or not you are exempt.
The good news is that A & C Energy Surveys is happy to offer a commercial EPC in Nottingham and our team boasts a great deal of industry experience.
Please contact us if you have additional questions.
Providing the East Midlands with EPC Surveys and More
While we are pleased to be able to offer commercial EPCs in Nottingham, we can also provide domestic examinations if required. Our highly accredited team specialise in carrying out these surveys and will provide property owners with the clarity needed to make important decisions when the time is right.
Please contact us if you would like to schedule a consultation or should you have additional questions. A customer service representative will always be happy to help.
We are accredited with the following organisations: