Unless there's an applicable exemption, all commercial buildings are required by law to score a minimum Energy Performance Certificate (EPC) rating of E.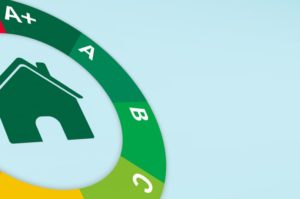 Other than meeting regulations, improving commercial EPC ratings also boosts a property's value. EPCs are meant to inform potential buyers and tenants of a building's energy performance. Since most tenants are responsible for paying their energy bills, a lot of them would appreciate an energy efficient building. Unfortunately, most property owners don't feel adequately informed on how to improve EPC ratings. Well, here's how:
Lighting
Inefficient lighting is one of the biggest contributions to CO2 emissions and a low EPC rating. Most shops, offices, and warehouses suffer from poor natural light and end up consuming large amounts of electrical lighting. It's important to find sustainable ways to solve this. For starters, converting to LED lighting systems can reduce lighting costs by up to 50%. You can also add some lighting controls such as occupancy sensing and daylight harvesting lights to avoid wasting light energy in the middle of the day or in unused spaces.
Insulation
If you are losing heat, then your EPC rating will drop. A well-insulated loft and cavity wall can improve your rating by up to 15 points. Just because you have insulation doesn't guarantee a good rating. It needs to be professional and thick (the recommended depth for loft insulation is 270mm). Cavity wall insulation, on the other hand, needs to be done using solid brick or metal clad properties. Don't forget to insulate the roof as well, especially for warehouses and industrial buildings. Other than improving EPC rating, proper insulation also helps to improve performance by reducing noise pollution.
Glazing
Upgrading windows to new double glazing can improve EPC by up to 4 points. High-quality double gazing is efficient at retaining heat compared to cheaper options. Though it will cost more, it will have a great positive impact on the property's EPC rating.
Renewable Energy
Switching to renewable energy sources is a guaranteed and long-term solution to improving commercial EPC. Technologies such as Solar / Photovoltaic panels, biomass, geothermal heat, and wind turbines, offer a great source of renewable energy whilst improving the rating. Most commercial properties use energy consistently, especially during the day. This coincides with the peak supply of renewable energy.
Here at A&C Energy Surveys Ltd, our experienced and accredited EPC assessors can assess and help you get the relevant domestic or commercial EPC across the UK. We also offer advice on reaching Minimum Energy Efficiency Standards (MEES). Using our accredited company ensures you get advice and services that are in line with government requirements. For more information, contact us today via email or call directly on 07513 990 269 to order your EPC.