The Commercial EPC & When You Need One
An EPC or Energy Performance Certificate is required by all landlords, builders and developers before they are able to sell or let a property in England and Wales.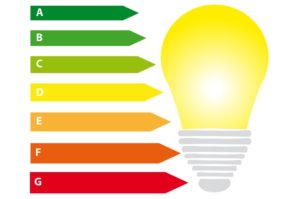 The legislation was introduced in response to the government's commitment to reduce greenhouse gas emissions and must be followed by both domestic and commercial developers.
April 2018 and onward
From April 2018, legislative changes meant that commercial buildings (subject to certain exemptions) must achieve an EPC rating of above an 'E' before a landlord could renew a lease, or rent the property out. With a significant percentage of buildings not managing or maintaining this energy efficiency level, it has caused a major upheaval within the industry. The penalties for failing to provide a suitable EPC, or submit plans to the local authorities that bring a commercial building up to the required standards are severe, with penalties of up to £5000 being levied for non-compliance. Bearing this in mind, the importance of a commercial EPC cannot be ignored.
What does a commercial EPC cover?
An EPC concentrates on the energy performance potential of a building i.e it's fabric, heating, ventilation and lighting systems and produces a rating from A (highest) to G (lowest). Along with the certificate, a recommendation report is produced that outlines changes that can be made to increase the buildings energy efficiency rating.
The importance of using an accredited assessor
At A & C Energy Surveys Ltd we are accredited and specialise in both commercial and domestic EPC surveys, We are able to provide advice on reaching MEES (Minimum Energy Efficiency Standards) as well as assess and issue the relevant Energy Performance Certificate. By using an accredited company, it ensures that all the advice given is in line with what the government requires of businesses to reach the minimum standards expected of them to reduce their greenhouse gas emissions.
The little things do matter
While booking an EPC appointment with A & C Energy Surveys Ltd, it is worth considering the little things that contribute to energy usage. Such as changing over to efficient LED lighting systems; checking building insulation levels and keeping heating & air conditioning units professionally serviced. All of these factor into the overall energy efficiency of a building and will assist during the assessment. Along with the professional advice given by the EPC assessor they will make the process easier and produce a real saving in energy bills.